Here's how you can customize the UI of your Seed Self Service devices to match your dispensary branding.
Logo
There are logo placements on home screens and the header of each screen. These can be two different versions of your logo, or the same logo. If you aren't sure what size to use, send us your logo files and we'll make sure it looks good on your Seed devices!
Home Screen Logo
Approx. 600x400px

Header Logo
Approx. 400px maximum width
Colors
You can choose the color of buttons and top header.
Home Screens
Home screens are shown when Self Service devices are idle and not being used. By default, the screen will flip through 3 different images with prompts to "Order Here" and "Tap to Begin."
You can customize this screen to show your own promotional images. Provide us with images that are 1080px width x 1920px height.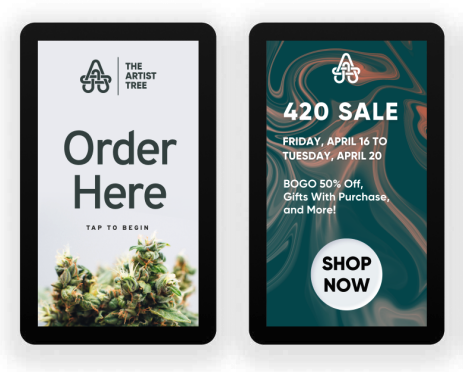 Main Menu Buttons
The background on these 4 buttons can be customized.
Provide us with image files that are 844px width x 328px height.